3/5 UPDATE: Here is the obituary as it will run in the Chicago Sun-Times. (Here's the Sun-Times version.)
Also, Mary Ann Ahern and Carol Marin, in their NBC5 Deep Dish segment on Friday, will say a few words about Mark and his work. The segment should air at the end of the 4:30pm newscast on Friday (approximately 4:52pm). UPDATE: Here's the segment.
3/4 UPDATE: A celebration of Mark's life will occur this Sunday the 8th from 230-630pm at Celtic Crossings (751 N Clark). His obituary with this information will run in the Friday Sun-Times.
3/3 UDPATE: An obituary for Mark will air during the NBC-5 News at 5pm. (Here's the link.)
Here are some other notable remembrances of Mark or articles of his I love:
* Fred Klonsky on Mark's passing
* Andrew Oleksiuk on sharing a cancer diagnosis with Mark
* 18th ward aldermanic candidate Michael Davis on what it was like to be interviewed by Mark as he worked on progressive causes
* Mark on his departure from Ward Room
* Mark on the problems of campaign finance reform in Chicago
* Mark calling out lazy political analysis from others in town
* Mark laying out Chicago Forward's aldermanic strategy here and here months before it happened
* Mark on the IL-39th race between Will Guzzardi and Toni Berrios
* Mark telling someone – anyone – in Chicago to get off his or her ass and run for Mayor
* Mark and Carol Marin talking about the top political story of 2013 and his introduction to the Ward Room audience
* Mark at Gapers Block in 2003 on tap rooms and in 2004 about the steel beauty of the El
* His old blog The American Sentimentalist (via the Internet Wayback Machine)
UPDATE: Minutes after I posted this, Mark passed away. As you can imagine, we still have some medical debts to take care of for him. In addition, there are some services and other arrangements to handle in the wake of his death. Any donation you're able to make to defray these costs will be helpful. As soon as I have details on how we will celebrate his life, I will pass them on here.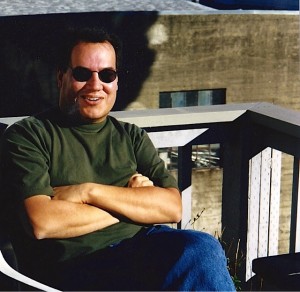 Whether you're a lifelong friend of Mark Anderson's or someone who just met him recently through his political journalism, you know him as someone of rare intelligence, wit and kindness.
So it is with sadness and a heavy heart that I'm writing to let you know Mark is near the end of his life due to cancer – and could use some financial help from his friends because of it.
It was a year ago this week that Mark was diagnosed with incurable Stage 4 cancer. He, Sarah and his doctors planned an aggressive chemotherapy treatment with the knowledge that he would be fighting this cancer until the end of his life, which then still seemed years away.
For much of the past year, Mark wanted to keep the true extent of his medical issues private. It was only recently he wrote publicly about his struggle as it meant the end of his writing at NBC's Ward Room blog. Recently, the cancer accelerated the deterioration of his physical and cognitive abilities. Within a month, his remaining time with us went from a year to a few months to what is likely several days. Late Sunday night, he was moved to a hospice facility.
The speed with which this illness struck him has been stunning for many of us and made it difficult to keep everyone informed on the latest developments. (Please share this information with anyone you know who knows Mark.)
Whether in his personal or professional lives, Mark's keen mind has helped all of us understand the world. Inspired by great writers, musicians and theorists, he pushes forward to better know himself and others even if it meant facing difficult truths. He has changed all our lives through his scholarship, his search for a greater peace and, most of all, his friendship.
It is no understatement to say Mark's writing changed the way many people viewed the world of politics in Chicago, including a few highly-charged contests. He is respected by some of the best in the business, which should come as no surprise to anyone who ever talked with him about Chicago for more than a few minutes. His knowledge of the city's history is matched only by his passion for its possible, better future.
I'm writing to you with a plea for financial help for Mark. The medical expenses and costs for his final arrangements are significant as he does not have long-term disability, life insurance or an estate. We're hoping to raise enough money to pay for his current in-home nursing care and the services needed for the end of his life so as not to place a difficult financial burden on the people caring for him now.
I'm asking for you to consider a donation of $50, $100 or whatever you can afford to help defray the costs of Mark's expenses. The easiest way you can make a donation is through his PayPal account, which is accessible by his wife Sarah and those handling Mark's affairs.
To do so, please visit paypal.com, click Send and enter mark@markwanderson.com and the amount you wish to donate. (You will then be prompted to create a Paypal account if you don't already have one.)
If you wish to donate by check, please email me at ourmaninchicago@gmail.com and I will send you the address.
Thanks for reading this. Your kindness and generosity means a great deal, especially now. Please feel free to forward this to anyone who knows Mark.
As best I am able and as privacy dictates, I will keep this page updated with information on Mark's condition.