My friend Mark Anderson died this week. This is the unedited version of the obituary that will run in the Chicago-Sun Times. I will link to their version when it's posted. UPDATE: Here it is.
We're also trying to raise money to defray the cost of his end-of-life expenses. More information about that – along with samples of his work, memories from friends and any updates – are posted here.
As mentioned below, we will celebrate his life at Celtic Crossings (751 N.Clark, Chicago) at 230pm on Sunday March 8th. If you knew Mark personally or through his work, you're invited to attend.
—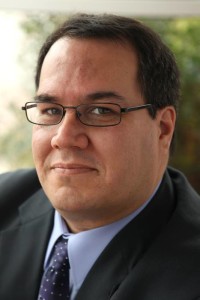 Journalist, thinker and survivor Mark W. Anderson, 51, of Chicago, IL passed away on March 2nd, 2015 at Midwest Palliative & Hospice CareCenter, Glenview after a yearlong battle against both cancer and Chicago machine politics. Though the cancer spread, the Machine is said to be in remission. Born December 11th, 1963 in Chicago he had several jobs, including one at a travel agency that introduced him to various parts of the European continent, before finding his place as a financial writer at Morningstar and other companies, bringing a creative verve to a dry topic. He later went on to form his own small communications firm.
Both a student and teacher of Chicago history and tavern culture and a lover in equal measure of rock, jazz and moments of quiet reflection, Anderson graduated from Columbia College with a B.A in journalism in 2005. He is best known as a writer for NBC's Ward Room. In the tradition of Algren, he wrote of the faults of his beloved city but always believed in its capacity to be better. Through his writing and activism, he played significant roles in the elections of at least one Chicago alderman and a member of the Illinois House of Representatives. He is survived by his wife, Sarah, and several acts of journalism that reverberate to this day.
In keeping with his wishes, Anderson's body was cremated. His spirit will be present in a celebration of his life at Celtic Crossings (751 N.Clark, Chicago) from 230-630pm on Sunday March 8th. It will be as he was: full of kind words, colorful stories and occasional vulgarities.
UPDATE: The following comes from Scotty Carlson.
Random memories of the late Mark W. Anderson, Columbia alum, Ward Room fighter, veteran of the Columbia Chronicle, and my friend:
– It's 2003-2004 and I'm taking History of Journalism. Manders is the oldest student in the class, probably by about 10 years. He takes notes on a laptop every day. Other classmates, with notebooks and pens, think it's a weird thing to do.
– It's later that year. I'm a news editor on Columbia College's Chronicle newspaper; Manders is an associate editor. Somehow we find out we're both Beatle freaks. He gives me a printed copy of an email that his friend forwarded. His friend worked for Eric Idle's touring concerts. The email is from Eric Idle, written on George Harrison's home computer, regarding George's health shortly before he passed.
– It's 2009. We're at Manders' house in his front room. I bring two recent vinyl acquisitions — the Japanese pro-use pressing of ABBEY ROAD and a bootleg of GET BACK — to listen on his famed stereo. We sit in front of his speakers, not saying a word. Just smiling and listening.
– It's 2010. Our friend and mentor, Jim Sulski, has passed away. Manders is the one — and the only former comrade of the Chronicle — to let me know. We go to Sulski's funeral together. On the car ride home, we tell each other neither of us would have had the strength to go by ourselves.
– It's 2013. Over the years, we've fallen out over stupid reasons, but we still keep in touch. I'm spending a month interning at the Grateful Dead archive. The archivist presents me with a tour program from the 1983 tour. I snap a pic and send it to Manders. He replies: "What's funny is, I still have that very tour program, from my second set of Dead shows ever. I remember buying it at a little booth the first time I was at Alpine in 1984."
– It's late 2014. Mark emails me about his health issues and having to sell his beloved vinyl collection. He needs Kinks albums. I Dropbox him 6 gigabytes — everything I have. I tell him I'm coming back home for Christmas and want to see him. We try to schedule coffee. It's the last time I hear from him.
Rest in peace, Manders.