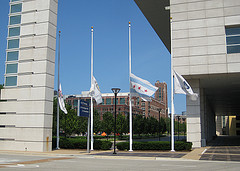 I swear this blog isn't going to become "Our Man In Chicago On Crime" but it's probably going to be on my mind for a couple weeks.
I'm trying to understand the mayor's mindset when he does things like this:
Emanuel attended an anti-violence vigil in Roseland Monday evening where he said everyone — from parents to police to federal lawmakers — must play a role to curb bloodshed in Chicago.

"A lot of people will say where were the police … and that's a fair question, but not the only question," Emanuel said. "Where are the parents? Where is the community?
First of all, I don't know how you stand there at a anti-violence rally in a community that lost one of its own in a drive-by shooting two nights prior and ask "Where is the community?" That takes some gall.
I also don't know how you read about the father of the 14-year-old boy shot in a separate incident and ask "Where are the parents?"
"What happens to kids when they're not with their parents?" said Susan Diaz, whose daughter married into the Rios family. "The kid was 14 years old. The parents do the best that they can. When the kid walks away — he goes to school, the beach, the park, the library — the gangbangers are hanging around waiting to recruit them. … That's just the way it is."
When the mayor asks "Where are the parents? Where are the communities?" it implies neither exists where there is gun violence. That's reductive. And wrong. Especially when the underpinnings of those communities have been ripped apart by lack of economic investment. Gun violence doesn't start because a kid wakes up and decides not to listen to his parents. It starts when he thinks a gun keeps him alive. And that happens when crime seems like the best – and safest – possible way to earn a living and keep on living.
More police aren't going to solve the problem. But pointing a finger at parents without talking about why parents aren't around? Or the economic reasons why parents alone aren't enough to shout down the other voices kids hear on those streets every day? Not helpful.
When you're the mayor, your rhetoric frames the way people view a situation. Your words make headlines, they lead the evening news. Demonizing an entire community gives fuel to those who think "those people" are all criminals. It lays the blame for crime at the community's collective feet, helps keep "them" at arm's length and convinces people that crime is something that exists in other neighborhoods and won't affect them.
I'm reminded of last week's shooting in Lakeview:
The Pride parade revelers who had filled the street earlier were gone, Lane said, and a younger crowd replaced them.

"I doubt any of them was over 30," Lane said. "A lot of them don't live around here. They come from other neighborhoods. It's just the attitude they have, the mentality."

[snip]

Neighbor Juan Chavez, who's lived in the area since 2007, said "the majority of people who cause trouble don't live in the neighborhood."
People in "safe" Chicago neighborhoods really will go to great lengths to convince themselves that crime isn't a problem where they live. Saying "they come from other neighborhoods" suggests there's a leaky faucet of crime you can just turn off and fix the problem.
Instead, we – all of us – need to support crime prevention and economic improvement efforts for all Chicago neighborhoods. Not just our own. That's not easy, I'll admit. But it's the cause of the problem, not a lack of morality or parents or community.
Or to put it another way: morality, parents and community are what get infected by the disease of violence and poverty.