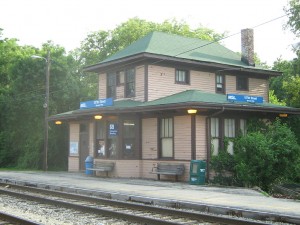 I've lived in the Chicago area my whole life. I've lived in the city proper since 1998. I've never been robbed at gunpoint.
There's a first time for everything and last night was my first time. I want it to be my last.
I was walking home from the Metra at 107th St. It's an eight-minute walk for me. I was on my block, steps from my house when two guys in their late teens/early 20s robbed me. One had a gun. It was big. And it was sticking in my chest.
The whole time I'm thinking "Of course they have a gun. That's what you do when you want to rob someone. You scare them with a gun so they give up anything of value. A gun turns a struggle into an obvious outcome." It seemed so typical. Here's my mugging!
I tried to use a few seconds to stall so I could get my bearings. How much danger am I in? (Quite a bit.) Is there anyone around? (Nope.) Do I have a choice in how this ends? (Hope so.)
They got my wallet, my phone and my work laptop. Physically, I'm fine and safe because I didn't prize my possessions over my future. And because these guys hoped the long-established storyline would play out exactly as it did.
Crime should not feel inevitable. But it's felt like that lately in Chicago. For many people, including me. Even though I live in a safe neighborhood. There's too much of it happening here for it not to affect you, no matter what neighborhood you live in. I've been telling anyone who will listen that Chicago's tribalism, enforced by neighborhood boundaries, contributes to the problem. As long as it happens somewhere else, it's OK. As long as it involves gangs, it's OK because you're not in one so it won't happen to you. Even though it's only a matter of time until it hits home. It did for me last night.
I am not special. This exact scenario plays out many times across the city. Similar ones happen often with far more lethal results. As someone who closely follows what happens in this city and this neighborhood, I'm aware of the potential danger.
Mine wasn't the only recent robbery around here. There was another armed robbery last week near the 107th Metra station. According to reports on local community Facebook groups, there was a robbery four blocks south at the 111th station. And one last week at 96th and Damen. There were recent robberies at businesses near the 103rd St. Metra stop. People in our neighborhood are being targeted because they're comforted by the safety and are more likely to have something worth taking.
More crime is happening here because we live in a safe neighborhood. Mull that one over for a while.
I did all the things you're supposed to do right after a robbery: called the police, canceled my credit cards, changed the locks (my keys were in my bag and they had my driver's license). The cops at the 22nd District – five officers and a detective – could not have been more kind, thoughtful and thorough.
Plenty of people will read the above details and use it to support their own conclusions about the causes of crime in Chicago. I know this because I've already read comments from people on our neighborhood Facebook groups who are quick to blame it on a particular demographic group (which is a crock because the actions of a few are not indicative of the many) or use it as evidence of why concealed carry should be allowed on trains (which is also a crock because many people, including me, would still choose not to carry even if they could and a good guy with a gun doesn't always stop a bad guy with a gun).
I'm a bleeding heart liberal and an avid reader. My opinion has been when you don't give people economic options and don't make them feel safe and don't invest in their neighborhoods they'll do what they can to survive and use crime as an economic opportunity. I still think that.
But I'm also a realist. And I know some people are just assholes.
The real cause is somewhere in the above three paragraphs. Probably the last two.
When my wife posted to our local Facebook groups about what happened – in an effort to find a locksmith who'd come out this evening – people messaged her saying the recent robberies in our neighborhood are making them put their houses up for sale. This is unusual. Folks live here for decades. People don't move from Beverly, they move to Beverly. Usually because their parents raised them here. Or they're looking for what it has to offer. Maybe that's about to change.
I know what happened to me is minor compared to what has happened to others who don't have the resources or support I have. Or to people who aren't targets themselves but are caught between the person who is and the person with a gun. I walked away with an unpleasant experience. Most people who have a gun pointed at them in Chicago don't walk away.
Chicago's murder rate gets a lot of attention. But the robbery, assault and other crime rates don't get as many frequent updates even though they hit people where they live, too. And they're making people leave where they live.
Not me though. I'm staying to fight. I've lived in this neighborhood for five years. We have the best burger and best ice cream in the city. There are many other things to recommend it: the churches, the schools, the people.
I've already written the alderman – he's a good guy and cares about the people who live here – and I plan on talking more about this in the future. I've told him I'm willing to help, however I'm able, to deal with our neighborhood's short term crime problem and the city's larger problems. If you follow me online, you know I'm not exactly quiet about the problems in Chicago and how our priorities are often out of whack. It's always been personal for me. I love this city so very much; it is my joy but it is also my sorrow.
Tonight Chicago's crime problem hit me on the street where I live.
It's not enough for me to talk about it anymore, it's time for me to do more. If I'm not doing more, I'm not doing enough.
I hope I motivate others to do the same.
UPDATE: I'm no longer publishing comments made on this post, regardless of tone. I don't have the time to sift through them and keep the discussion from getting out of hand. Thanks to those who sent along their thoughts.