I've been thinking a lot about 2008 lately and it occured to me I've never posted this.
Back on June 23rd, 2008, Mavis Staples made an appearance at The Hideout, one of Chicago's best live music spaces. I was there as a fan but back when I was working at Time Out Chicago it wasn't unusual for me to turn the personal into something professional. I went to the show with my friend Lindsey because, if memory serves, Erin was out of town for work (we were four months away from that first trip to Vermont).
I spent an inordinate amout of time in our home office the next morning, writing this review. I've never been a fast writer and I sweated this one hard because it was Mavis Freaking Staples and because there seemed a lot more going on that night than just a few songs. Pretty sure I ended up rolling into the office late because I was trying to get this one right. But I was pretty pleased with it. Still, I posted it and then kinda forgot about it.
A few weeks later, the publicist of her label emailed me and asked if it would be OK if they used the below review as the liner notes for a live album of that night's performance called Hope at the Hideout. I didn't have an actual bucket list but I remember the time a high school friend and I discussed how we'd love to write the liner notes of an album someday. So uh…yeah…Mavis Staples can definitely use my review…uh, thank you.
I asked her publicist to let me review it so I could make it better, seized with fear that once it was printed inside the label I'd discover some horrible error or typo. I'm sure the below could be improved but I stared dumbly at it for a while and thought "Well, if they liked it, it must be fine" then told her to go ahead. I think I've mostly avoided re-reading it in the past because I'm worried I'll find something wrong with it. (Even now I'm just cutting-and-pasting it.) The album was released on Election Day 2008.
So if you buy Mavis Staples's Hope at the Hideout, you'll see the following in the liner notes with my name at the end. I don't talk about it much because it seems like something I lucked into. Or I'll wake up one morning and find out I was wrong and they used something Greg Kot wrote instead. (Even though I own the thing and can double-check it anytime I like.) But I'm posting it here as a reminder, to myself at least, that sweating things out is sometimes worth it.
—
Mavis Staples, Hope at the Hideout
There are few living musicians who can lay claim to being America's conscience, even fewer who continue to make vital music. On Monday night at The Hideout, Mavis Staples proved she's still capable of both. But far more than merely being capable, the 69-year-old Staples showed she can light a fire, agitate for change or re-energize the American songbook.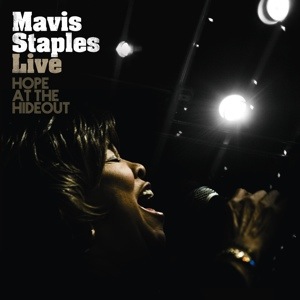 Though she never referenced it directly, it was impossible – even in an anachronistic setting like The Hideout – to experience Staples's performance outside of the context of an election season in a country at war. Opening with "For What It's Worth," a song whose power – at least in Buffalo Springfield's all-too-familiar version – has long since ebbed thanks to its ubiquity, Staples tapped into the song's theme of absolute corrupted power, giving new resonance to lines like "Paranoia strikes deep…it starts when you're always afraid." Later in the night, she would sing of waiting for a letter from a long-away son or daughter ("Waiting For My Child") or of letting her light shine in the streets or on the battlefield ("This Little Light of Mine").
Staples commanded the stage with a dual mission: To record a live album (the bulk of her performance that night pulled from last year's We'll Never Turn Back, a collection of songs from the black civil rights movement) and, in her words, "to bring joy, happiness, inspiration and positive vibrations…to last for at least the next six months." Just enough to get us to Election Day.
Befitting the intimate space, Staples performed with only a three-piece band, and a trio of backup singers. The warm acoustics of the Hideout were the perfect setting for their Southern-fried soul and Staples's voice moved with ease from the high notes of church-choir praise to a throaty growl of defiance. The deep, swampy bottom of the rhythm section perfectly complimented guitarist Rick Holmstrom's no-wasted-notes style.
Though Staples has performed some of these songs countless times over 40-plus years – she introduced "Will The Circle Be Unbroken" as the first song her father "Pops" taught her to sing – she injected her set with a stunning immediacy, as these are both traditional songs, and stories of her life. Whether it's the autobiographical lyrical touches she adds to J.B. Lenoir's "Down In Mississippi" or the lunch counter standoff of "We Shall Not Be Moved," the politics of Mavis Staples are very personal indeed.
As for the happiness and inspiration she promised at the outset, Staples and her band delivered. A Monday night crowd of once-in-a-while concertgoers is a rough audience, and most of the assembled kept a hushed reverence as she sang, limiting their joyful noises to moments between songs. But by the end – with warm encouragement from her backup singers – she helped them find their voice in call-and-response and revival rhythms, bringing the night to a close with the hopeful promises of "On My Way" and "I'll Take You There."
Anger burns hot. So much so that if not properly directed, it burns up quickly, preventing movement, resulting in sadness or frustrated impotence. Hope, on the other hand, promises joy on the other side of the river, just over the mountain, a few more miles away. It is this country's primary renewable resource and, as such, Staples's show demonstrated why it is the only way to conquer fear and inspire change.
Set list:
For What It's Worth
Eyes on the Prize
Down In Mississippi
Wade In The Water
Waiting For My Child
This Little Light of Mine
The Weight
Why Am I Treated So Bad?
March Up Freedom's Highway
We Shall Not Be Moved
Turn Me Around
Encore:
Will The Circle Be Unbroken?
On My Way
I'll Take You There