Erin and I are in Vermont this weekend, celebrating our fifth wedding anniversary. We got married out here then and we're staying at the same B&B we did then. A few things have changed but not much.
Yesterday we spent our afternoon in a bar/restaurant called Bentley's, which five years ago was the first place we landed when we arrived and the last place we spent time at before leaving for the airport. As we sat there, we dug back into this Glamour.com article about how we were going to live-blog and "Twitter" our wedding. (We weren't, really, but nevermind.)
Reading it five years later, it seems adorably quaint – both the tone of wonder and surprise and the idea that such a thing would be worth writing about at all. At the time, I suppose it was. Twitter was only a year and a half old and had yet to become the celeb-filled and influential communications tool it is today. And the extra spin that we were eloping but people could follow along as it happened – again, not really what we were doing – gave it a societal change element.
The biggest jolt the article – and our accompanying website – provides is how long ago it seems while feeling as if the time has flown by. For example, I barely remember what iMeem was but apparently we used it to build our wedding playlist. Also, we had enough time on our hands to build a playlist and write a bunch of pages for a whole other website. The jobs we had then are four jobs ago in both our cases. We were still living in a small apartment in Roscoe Village and there was just Glin, no Abigail yet.
Somehow though, it doesn't feel as if that much time has passed and everything seems new still. I'm still ridiculously in love with Erin. She remains my greatest champion and between her and Abigail they are the people with whom I prefer to spend the most time.
Erin's sleeping next to me as I write this (typed out on my iPhone because I can't get the WiFi to work on my iPad for some reason so forgive me my typos). We found a new restaurant here that instantly became a favorite last night. In a few minutes, we'll go down to breakfast and then later revisit the farm where we got married five years ago. This weekend will be like that: old favorites and new discoveries we didn't have time for then because of all the wedding hijinx. Exactly how you'd like it to be.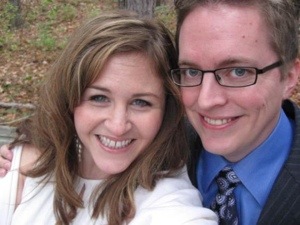 When I got up from the table at Bentley's to use the bathroom, I started to wander around and remember the circuitous route it takes to get there: around the bar, through the hallway, up the stairs, around the corner. I remembered it exactly. Five years ago and it was like no time had passed at all.
On our wedding site, I said this:
Without Erin, there is no story, you see. There is no "us." There is no "rest of my life."
I hope that feeling never goes away.
Happy anniversary, Erin.