This is the piece I read at The Frunchroom back in July.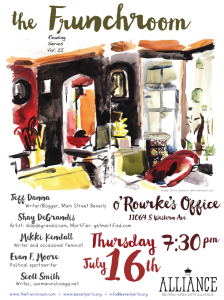 Oh hey, did I mention I produce/host a South Side reading series called The Frunchroom now? (Not here, apparently, because I've only written seven posts in all of 2015 so mostly I get my creative juices flowing by producing/hosting The Frunchroom, going on WGN Radio to talk about media stuff and directing editorial things at work.)
I explained here that me doing a reading at The Frunchroom was somewhat unintended. But it was good for me because I've been on a bit of a dry spell lately. The ideas for this piece had been rolling around in my head for a while and it made a lot of sense to do it at O'Rourke's Office, where The Frunchroom is held, for reason's that will become clear.
—
Can we talk about bars for a minute? I really love bars.
They're like going to the gym but in reverse.
Have you ever heard of the idea of the third place? It's the idea of a place other than your home or work that offers neutral ground, is open to everyone and – most importantly – features conversation as its main draw. There are lots of kinds of third places from parks to barber shops to churches or libraries. But most are somewhat purpose-driven or encourage conversation only amongst those you came in with.
Bars are different. By design, they force you into conversation with someone that isn't family but might be a friend by the time you leave. No less than Mike Royko called the neighborhood tavern "the working man's country club" or a kind of "group therapy."
I've spent many a meaningful moment in a bar. I celebrated turning 30 at Blackie's in the South Loop. I courted my wife in a number of bars on the North Side. Earlier this year, I mourned the death of one of my closest friends at Celtic Crossings. It was an Irish wake. (He wasn't Irish.)
If I have to write something important, I prefer to do it in a bar. If I have an hour to kill somewhere, it's my first choice of a place to spend the time. But it's a culture that, in Chicago, has been in decline.
Back in 2012, Whet Moser at Chicago magazine took a look at some of the facts and figures behind this. According to USA Today, in 1990 there were 3300 places in Chicago with tavern licenses. By 2009, the number fell to 1200. Mayor Daley seemed to take a particular interest in closing bars but there were trends like more drinking at home and restaurants that figured into this, too. In fact, if a bar opens in Chicago nowadays it's likely to get most of its revenue from food sales. Not just because of changing habits but because it's a bit easier to get the nod from the city that way.
Even though they've changed a bit and are as likely to offer small plates as shots, we're losing many of our third places. But if it weren't for a bar, specifically this one, my wife and I might not have moved here.
Now, before you start whispering to the person next to you ("Oh god, the host of The Frunchroom has a problem with the drink….), let me assure you we looked at things like schools and property values and what have you. Also, you are in a bar on a Thursday so calm down and don't be so high and mighty.
We were in the final stage of house-hunting when we drove down from Roscoe Village one Saturday to see what the Beverly/Morgan Park nightlife was like. This was in 2009 before we had a child and "nightlife" to us then had not yet become sitting on the couch and passing out in front of episodes of The West Wing.
The people at O'Rourke's seemed nice, they served a decent cocktail and it also had a cool little back room that seemed like it could be interesting.
Prior to that we'd had a post-looking-at-houses dinner at the bar/restaurant on 111th called Ritchie's (it's now been renamed Joseph's under new owners) and warmed to both classic Italian menu and our server Adam who was apparently given to sitting down at an old piano against the wall and banging out Billy Joel and Elton John songs. As he hit the second verse of "New York State of Mind" Erin and I looked at each other and said "We're definitely moving here."
We needed a sense of the neighborhood so we came to a bar. I hope the folks from BAPA are taking notes.
But our neighborhood's had a weird relationship with bars. For example, there are – if my math is right – 16 bars along Western Avenue from 99th to 119th. Many of them are Irish in nature, in keeping with the tradition of the neighborhood. They're full of friends, family and memories. But there's a nickname for it. The Western Avenue Death March. (Editor's note: I've since learned there are about five other names for it.)
It's an odd dichotomy – a culture that's at once celebrated and maligned.
The South Side Irish Parade – which, full disclosure, I volunteer with – became the legendary powerhouse it was – hosting mayoral, gubernatorial and presidential candidates – in part because of the bars along Western. Yet the attraction of drink drew busloads of Iowa college students and caused it to be shut down for two years before coming back more in the family-friendly spirit of its founders.
And sure, we have 16 bars along Western Avenue but nothing to the east of it as those precincts are dry. Both candidates in the most recent aldermanic election said they believe a restaurant serving beer and wine would help anchor development along 95th street or 103rd. Yet in 2009, the last time the matter was put to a vote by the residents of one of those precincts, an effort to open development of this type between 103rd and 107th on the north and south and between Longwood and Walden on the west and east ultimately died in the face of stiff opposition from the community and a confusingly worded referendum.
The theory goes that if the area east of Western was wet again, we'd be besieged with package liquor stores or the dark spirits of rowdy taverns. That this would bring in the wrong element.
It's worth noting here that the area in question isn't zoned for either liquor stories or a standalone tavern. It's only zoned for restaurants or specialty grocery stores.
But I also think about the last bar/restaurant that opened in this neighborhood, Horse Thief Hollow. And what it's done to change bar culture on Western Avenue, from the number of places that now proudly proclaim the number of craft beers they have to the rehab of Keegan's to allow for a different kind of atmosphere. Not to mention the number of gallery showings or parties it's hosted for the Beverly Area Art Alliance. (Note: Keegan's has, post-rehab, been named Barney Callaghan's.)
I also think back to a few months ago when one of our readers, Dmitry Samarov got up on this stage and lamented that Hardboiled Coffee, another wonderful third place at 91st and Western, might not make it. Sure enough, earlier this month owner Gregg Wilson announced he was closing the shop. But the wholesale coffee business would remain a growing concern and move inside another local business: Horse Thief Hollow.
And not for nothing but hosting The Frunchroom here at O'Rourke's was a considered choice. I wanted it to be in a bar, to be in a third place. To add to the place, to the culture that made me want to move here.
If we want more arts, if we want more businesses – the kind that can help other businesses – if we want to reflect more of who we are to people who might want to move here and help carry on our traditions…if we want all that…then maybe it's time to think about attracting that kind of element to areas east of Western. To 95th Street. To 103rd Street. Maybe 2016 should be the year we try again and pass a referendum allowing restaurants and grocery stores to offer beer, wine and liquor.
We could use a few more third places here.
Because I really hate going to the gym.