Chicagoist – a site I succinctly describe to the uninitiated as "a news and culture blog about Chicago" –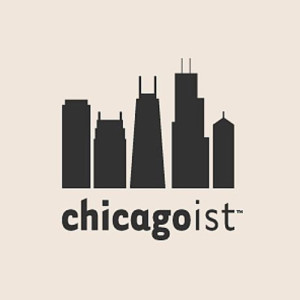 launched about ten-and-a-half years ago under editors Margaret Lyons and Rachelle Bowden with the backend marketing and infrastructure support of the Gothamist network (which at the time was just two sites). The site's just getting around to celebrating this milestone tonight and I've been in full throwback mode all day. (I've been tweeting reflections and stories on Twitter under #Chicagoist10).
It may seem unremarkable now but at the time there were few sites trying to talk about the news the way the average twenty/thirtysomething person talked about the news. In Chicago, there was Chicagoist, Gapers Block (the older brother competition who always made us try to work harder), Eric Zorn's blog and a handful of others mostly focused on specific topics. Chicagoist and Gapers were the only two group blogs I recall that tried to cover the whole city. (Red Eye, Chicago magazine, Time Out Chicago and the dailies were still very focused on their print products.) We didn't always succeed in our efforts to cover all of Chicago, in part because Chicagoist had a downtown/North Side bias running through it for its first couple of years. This angered native Chicagoans (and oddly some transplants, too) but it also meant the site had a voice, the voice of someone moving into the city for the first time and discovering it. And as the site grew older that voice become more authoritative and it grew into its aspirations without losing the barroom skepticism that ran through it in the early days.
I started there as a music and movies writer, a few months after the site launched. This was my first audition post. (It is nothing special.) I left as a co-editor in 2007 to go work at Time Out Chicago. Chicagoist was an incredible training ground for writers who wanted to develop. Many of us wrote for free. We weren't really editing each other early on. SEO and social-driven audiences were non-existent. So the site was often a mix of in-jokes, minor happenstances and hobby horses. I can't count the number of times favorite movie quotes of mine became headlines. But it was also a chance to figure out who you were as a writer. And get better at it. Or to create a newsroom environment even though we all worked remotely. We even managed to throw the occasional event or five. It was legit to say that blog had a community around it. I still read the comments in those days.
It was also a time when there were few alternate sources of news and viewpoints on the same. Again, unfathomable if you've grown up in a media ecosystem, post-2010. When the dailies or other media sources did something dumb, sexist or short-sighted, we wrote about it. I know how trite this sounds now, but it was what made me proud to write for them. Scroll down to the "Special thanks to" section here and you can see all the folks who made the site what it's been.
I owe most of my current career to getting my start there. So do many others. It's also where I met my wife. So in some ways, I owe it everything.
Here are ten of my most memorable moments – nine good ones and one when I got a little over my skis.
10. The Dave Matthews poop bus stories
All the Chicagoist writers had their way with this legendary story of a DMB tour bus dropping its toilet after-products into the Chicago River. I took particular glee in it. We retired the topic here but it still gets referenced whenever fecal matter is involved.
9. Interviews and festival coverage
We started doing coverage of summer music festivals in 2005 when Lollapalooza returned. The first year we were still small so I just ran around Lolla with a digital camera, a notebook and a tape recorder. Other local sites would follow the wall-to-wall model as the music festival scene took off with Intonation and Pitchfork. But Chicagoist still does it best years later even as social media has changed the way live events get covered.
Chicagoist is also where I learned to interview people whether they were bands, filmmakers, authors, a friend of mine who was a ballerina and a burlesque dancer. Most importantly, I interviewed the guys behind Filmspotting (nee Cinecast), a show I guest-co-hosted a couple of times, which remains a highlight of my life in media.
Speaking of interviews…
8. WBEZ's decision to drop jazz
It's ironic how hard I went after WBEZ here since I've ended up appearing on its airwaves many times since as a panelist, which would not be possible without this switch. After I did this post, its VP of comms asked me if he could respond so we ran this Q&A.
7. The Get Well Roger project
When Roger Ebert first became ill, the staff crowdsourced a simple photo project: People uploading and tagging photos of themselves giving the thumbs-up.
6. That time I kinda fucked up
I hated Tucker Max. Still do. I count as a career highlight the time I was editor of Playboy.com and told his publicist we would never cover him as long as I was editor (which didn't last long but still). But I didn't do my homework on this one and the whole reason for it – Tucker Max supposedly operating a site under a pseudonym – was taken down hard in the comments (deservedly so) by people with more awareness of him than I had at the time. The rest of the post is sort of useless (though still true) without it. But he was in an ascendant period here and it felt important to talk about that. The world would eventually tire of his shenanigans.
5. Ctrl-Alt-Rock 1 and 2
We threw two local band showcases thanks in large part to the booking prowess of Jim "Tankboy" Kopeny. Ctrl-Alt-Rock was the name coined by our sports writer Benjy Lipsman. The first packed the house at Schuba's. The second was at Double Door and was one of the last things I did with the site before leaving for Time Out Chicago. The second is my favorite because I convinced Jim we should book the Reptoids and a little band of U of C students no one had heard of called The Passerines.
4. The Double Door is closing hearing in which nothing happened 
Everyone freaked out because the Double Door might close. An online petition was launched. I went to to the hearing. The response to the loss of a great rock club forced the two sides to come to an agreement. I wrote this post because I sat in a courtroom for hours and wanted to make it worth something.
3. Guilting Pitchfork/Intonation into letting people bring in their own water
It is always ridiculously hot during Chicago's festival season. The fest that would become Pitchfork Fest had a stupid policy of not allowing people to bring their own water. But their reaction to questions about it was what really irked me so I wrote this. Two days later the fest reversed its decision and allowed people to bring in their own water, a rule most summer festivals here now follow.
2. Questioning NBC 5's ethics
I don't know why this bothered me so much. Maybe because our site had a more stringent ethics policy for food reporting than a major television affiliate.
1. The Richard Marx letters
It's pretty much standard for Richard Marx to go after someone in Chicago media when they do something he doesn't like. My errors were minor to non-existent depending on your read of this. This was the first time I heard from a legitimately famous person I wrote about and it was a little weird. Justin Kaufmann and I later immortalized those emails in this live Schadenfreude sketch: