Earlier this week, I was a guest on Car Con Carne, the world's only barbecue podcast recorded in a car (the show posts early next week). It's hosted by my friends Mike Bratton, a professional voiceover artist, and James VanOsdol, former Q101 DJ, author, and radio host/reporter at WGN Radio 720 and Rivet Newsradio. I mention their CVs because this is a side project for them. They're running a Kickstarter so they can fund it on the most basic level and squeeze in tapings around their paying gigs.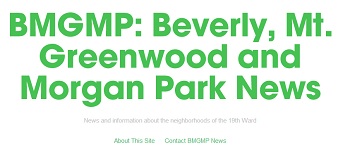 Meanwhile, I'd recently started a small Tumblr-driven news blog about my neighborhood. BMGMP covers news about Beverly, Mount Greenwood and Morgan Park. Though I've made some media appearances recently and pay attention to news and politics in Chicago, it's been a while since I've followed a beat in this way, even on a micro level. Following RSS feeds, tracking sources and seeing how stories develop over time felt a lot like riding the proverbial bike.
Both experiences have taught me a few things about launching side projects:
1. Play to your strengths
I worked in digital media and publishing for eight years before moving into content marketing, which has a similar skillset. Covering news is still a passion of mine. Plus, I live in the neighborhood I'm covering and things I see, hear and experience all end up as fodder for the site.
Mike and James are both professionals in the field of audio-delivered news and information. James hosted his own podcast on The Steve Dahl Network. They know how to produce an interesting show, book guests and digitally publish their work. And not for nothing, they're both fans of barbecue in a city that's seen a number of quality BBQ spots open recently.
A couple months ago, I was trying to get a design newsletter off the ground with a friend. The idea we had was great and there was probably a good business idea in it, too. But neither of us knew design well enough to create the editorial part of it which…was the whole thing, really.
All of this is just another way of saying "write what you know." It's a lot easier to make a side project a reality if you're just remixing your current skills and knowledge.
2. Use available resources
Mike and James record their podcast in James's Mazda RX3 instead of a studio. Rather than hinder their process, it makes what they've created better. It gives them a marketing hook ("the world's only barbecue podcast…recorded in a car"), a healthy dose of verisimilitude (on more than one occasion the show discusses something weird that's happening outside the car) and the ability to record from outside of any barbecue joint they like. Mike also has gear from his voiceover work that makes recording a podcast much easier for them than it would be the average person.
I'm not a fan of Tumblr as a publishing platform. But it works for now. It was simple to set up, even for the customization I wanted (no comments, small tweaks to the template), and costs nothing but time. I do about 30-45 minutes of work on it when I wake up in the morning. I've purposely made it a digital-only news source so it doesn't require me to do any shoe-leather reporting other than what I'd already be doing. I've made sure Google can see it and I push traffic to it via Twitter. It's the minimum viable product I wanted to fill a news gap in my neighborhood.
3. Start small
One of the reasons I started on Tumblr and not WordPress was to give myself growth goals: if I can keep up the site for a month, I'll buy a domain for it and move it to WordPress. If I can keep it up for three months, I'll consider adding features or creating a social presence for it. I didn't want to spend a ton of time on it in the beginning only to discover I couldn't maintain it. I haven't let that many people in the neighborhood know it exists while I experiment with the format and content.
Car Con Carne records every two weeks. They're starting with friends and colleagues as guests and visiting local BBQ joints. If the Kickstarter really takes off, they'll make changes to the show and maybe even record in BBQ meccas like Memphis.
4. Don't wait for perfection
I won't speak for what Mike and James might change about their project but there are a ton of small things I don't like about BMGMP that I don't yet have the time to fix: the way photos embed, how permalinks show up and not having built a complete list of sources, to name a few. I haven't even decided whether the name is something that works. Some of this is the direct result of starting small. But the best way to learn and improve is by doing. If I didn't start, it would never get better. And speaking of…
5. If it's worth it, you'll find the time (a.k.a. It's never the right time to start something new)
Like anyone else, Mike, James and I all have job and family responsibilities that keep us busy. In the two weeks I've been doing BMGMP I've missed a couple of morning runs. Eventually, I'll re-adjust a find a new routine that allows time for all of it. (Easing up on my self-imposed publishing deadline of 7am would probably help.)
I created this side project as much for myself as anyone else. I'm not doing it because I think it will make money or get noticed or disrupt something or any of the other external reasons people start side projects. I'm doing it because it's both fun and useful for me. If that's true then it will probably feel that way for someone else, too. And all the reasons that get in the way of not doing it will cease being real obstacles and just be excuses.