Abigail and I find ourselves at interesting turning points during this year's shared birthday week. She finds herself turning from a toddler into a little kid. I find myself trying to become…well, an adult for lack of a better word.
At three, Abigail is full of agenda and opinions, just like her parents. ("I need to…" and "I have to…" are frequently deployed counter-arguments to explain why her actions run counter to our instructions.) Last year she evolved her speech to form sentences so this is now the year of the paragraph: mini-discussions on how she's feeling, how you're feeling and what's happening in the lives of her favorite stuffed animals and TV shows. Speaking of, where last year was Abigail's Daniel Tiger phase, this year it's all about Doc McStuffins. Thanks to a gift of a doctor bag just like Doc's there is not a day that goes by without me, Erin, her grandparents, her aunt or anyone else in her vicinity getting a check-up. ("Breathe in, please! Now breathe out. Sounds good!")
At thirty-nine – dear God – check-ups have become more a part of my daily life. Not just the fictional variety but the medical, mental and chronological versions, too. I'm worried about things like high blood pressure and getting enough sleep. And I'm trying to make time for things that make me a more informed, well-rounded and thoughtful person so Abigail sees she has a dad who reads and listens to interesting things and doesn't spend all his time checking his phone.
To that end, I'm wearing an Up bracelet now and obsessively documenting what I eat (who knew there was so much sodium in everything?) and how much time I spend sleeping and exercising. I'm putting things on my Google Calendar like "reading" and "running" so I'm reminded to do more of that and less listicle consumption. Digital tools are once again making my life worth living, and hopefully longer.
Of course, Abigail does not have any of these concerns. Her life is filled with books and discovery and new words and dispensing freelance medical advice. While not the omnivore she used to be, she's settled into some favorite foods – cheese sandwiches, blueberries, black beans and couscous. When she's not read to by me or Erin, she's trying to sound out words in her books or learning vowel sounds with her reading apps. She got a new ukulele for her birthday from her saint of a nanny. She still loves dancing and music and runs around at every opportunity ("Chase me!") when we're not making caves out of pillows.
Her favorite thing to do right now is have "sleepovers" on the stairs. Blankets are retrieved, stuffed animals are acquired and everyone gets "cozy." Everyone except the adults she's wrangled into this situation as no grown human being is able to contort his or herself into a sleeping position on a set of bungalow stairs.
This was also the year Abigail started to figure out the world's subtle differences. When she was very young, Erin and I thought ourselves geniuses because we purchased several of the small Pooh Bear security blankets Abigail sleeps with and carries around with her. If anything happened to one of them, another would be quickly pressed into service. Somewhere along the line, Abigail developed a preference for one over the others – he has a tag that's worn through in a particular way. This one became known as Real Pooh. There is also Special Pooh which is the very first one she owned and looks a little different than the others. And then there's Bathtub Pooh who is any Pooh who is not Real Pooh or Special Pooh and is OK for her to play with during bathtime so it's not soaking wet during bedtime.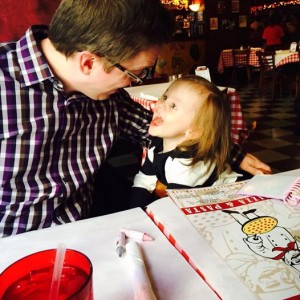 So now we have the stuffed animal equivalent of the Ben Folds Five: a main guy you can't do without and a bunch of other guys who fill out the ensemble.
Last year Abigail and I went to the toy store to get her a birthday present. This year we went to the comic book store after a pizza lunch at Pizano's with Erin. I've been slowly introducing Superman into Abigail's life and she's been conscious of superheroes for a while. My boss bought her a kids' book version of Superman's origin story and we've been reading it at bedtime. She can identify most of the members of the Justice League. But when we couldn't find a comic book with Elmo in it like the first one I got her, she lost interest in the rest of the store. She had an agenda and this wasn't on it.
I'm glad we're raising a daughter who has her own sense of what works for her and what doesn't. Her dad's still trying to figure it out.