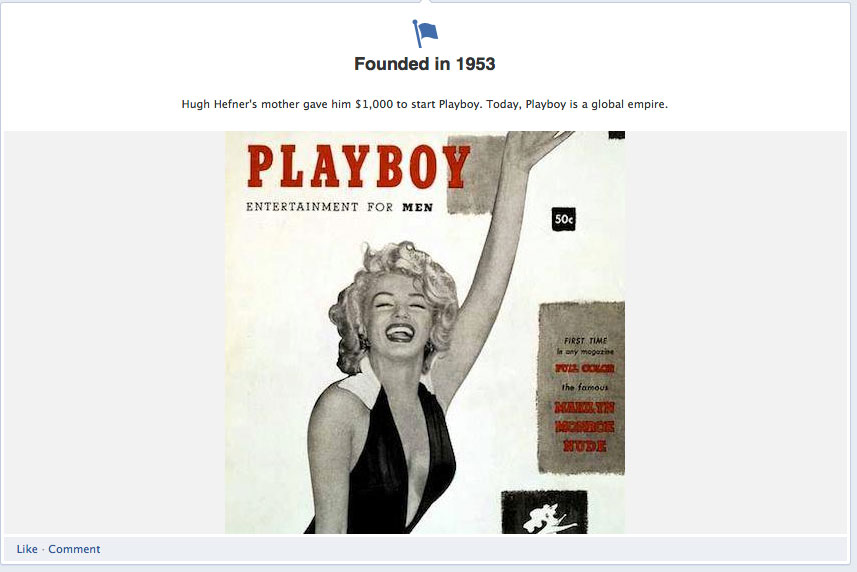 The above screenshot is from Playboy Enterprises Inc.'s new Facebook page. The timeline notes several major events in the company's history like Hef's move out west, the start of the Playboy Foundation, etc. It seems odd to me that the item about the founding of the magazine doesn't note that it was started in Chicago.
In fact, the major events on that page – the first Playboy Jazz Festival, the arrival of The Big Bunny jet, the first Playboy Club – all occurred in Chicago. Yet there's no mention of the city anywhere.
And then there's this quote from Playboy CEO Scott Flanders:
"If Hef could rewrite his life, he might have started it right here in Beverly Hills."
I disagree. But don't just take my word for it. Here's Hef in his goodbye letter to Chicago last April: "Playboy could not have happened anywhere else but Chicago."
Sure, some of the above is the typical corporate talk whenever you open a new office somewhere. But juxtaposed with the complete lack of a mention of the city where Playboy was founded, it certainly seems like the company wants to break with its Chicago history and focus on its current environs.
I've written that long before Playboy actually left Chicago, it stopped being a part of it. So maybe the above shouldn't be that surprising.
UPDATE 1/20/12:  Not sure when this happened but since I wrote this post five months ago the captions on Playboy's Facebook page have been rewritten to reflect Playboy's Chicago roots.