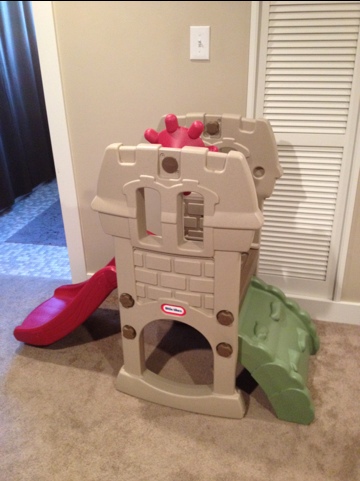 A couple weeks ago Erin bought Abigail this "castle boat" – as a friend's four year-old daughter called it during a recent playdate. A ramp with footholds on one side, a slide on the other and a somewhat nautical-looking steering wheel in the center where one can stand and approximate the life of a sea captain without all the bother of Somali pirates. The whole thing is not unlike the playground equipment you see in most newer parks, just smaller.
To be honest, it's probably a little advanced for her age. Sure, at nearly fourteen months she's an active, physical toddler – climbing, running and lifting large items with one hand are standard for her. And she's still considered tall for her age (no idea where she gets it). But the place where one stands and…er, sails the castle boat is about as tall as she is and she doesn't yet understand that a slide is something you experience while sitting and not something you jump off the top of while making the international hand gestures for "Catch me, Dad!"
No matter. She is our daughter. If it is in front of her, she will try to conquer it.
Footholds? They are for the weak. She grabs onto the landing for balance and swings her right knee to the top of the ramp, putting her weight on it. Clawing her way forward onto the landing, she pulls her other leg up, now practically standing on the top of the ramp if she weren't bent at the waist and executing a fireman's crawl across the landing as she works to bring her whole body together again so she can sit at a great height and let out a small laugh. At these moments, I imagine she's laughing at how easy it is for her now and how she used to struggle with this climb and give up momentarily, only to try again and learn a little more each time.
I wonder if she remembers that those struggles were just last week.
I wonder if she'll remember this feeling of triumph after several days of effort and how the difficult things become easier with repeated attempts.
I wonder if she realizes she's making it hard on herself – those footholds are literally there to give her a leg up – or if she just doesn't care. She knows there's one way to do it, but she wants to see if she can do it a different way. Her way.
I wonder if she realizes the world doesn't make it easy for people like that.
I wonder if she thinks that's part of what makes it fun.
I hope so.
***
A day after I wrote the above, Abigail figured out how to go down the slide…by turning around, lying on her stomach and pushing herself backwards. It was a rough adaption of the method she uses to get down off chairs, couches and our bed but definitely not the "correct" way to use the slide.
Of course it wasn't.