Today is my birthday.
When I woke up this morning, I walked downstairs and saw balloons stretching up to the ceiling and streamers hanging from the chandeliers and door jambs. The colored, helium-filled balloons said Happy birthday in white letters and fake confetti. At the end of the streamers were pink cardboard flowers and white cardboard circles with scalloped pink edges which read, in pink lettering…
Happy 1st Birthday
None of the decorations were for me. In fact, the streamers had been up for days and some of the balloons now drooped a bit from their once ceiling-level heights. The balloons and streamers were for Abigail, whose birthday had been four days prior.
Doesn't matter. Her birthday has made me enjoy celebrating my own again.
***
Last year it was already clear to me that my birthday would now and forever be overshadowed by my daughter's.
Abigail wasn't even a week old yet so I know I hadn't gone back to work but other than that I can't remember much about my birthday last year. Whether that's a result of the ongoing betrayal one's body and mind commits with increasing frequency as the years go on or some stress-induced by-product of the first week of our daughter's birth – maybe there wasn't anything worth remembering other than how much parenting we did – I don't know. I think it was the day before we came home from the hospital. If Erin were awake right now, I'd ask her and she might remember as she's always been better about birthday-related matters than I am. But she's asleep and so I turn to the electronic tools that I use as crutches in countless moments now.
Google Calendar says on the night of my birthday last year we were working on "paperwork [for] lactation consultant." That, I remember: The struggles Erin went through trying to breastfeed and all the stops we pulled out to try and make it the primary means of feeding our child before realizing a good while later we weren't going to be able to no matter how hard we tried. Rude Parenting Awakening #7 by that point.
Gmail and Facebook don't reveal much else aside from a pregnancy-related to-do list I emailed myself on my birthday that read:
To Get:
Ibuprofen
Lunch
Guinness
[REDACTED ITEM THAT RELATES TO WHAT HAPPENS TO A LADY AFTER GIVING BIRTH THAT ERIN PROBABLY DOESN'T WANT ME TO REVEAL TO THE WORLD]
But a big parenting high-five to 2011 Erin and 2011 Scott for March 4th because the Calendar also says that day we A) Had a 9am pediatrician's appointment B) met with a lactation consultant at 11am and C) went to a midwives' appointment at 2pm. How insane is that? There's no way we'd attempt that kind of schedule now, for crying out loud.  Although our subconscious rationale at the time was probably "Let's surround ourselves with as many people as possible who know that the fuck they're doing." Come to think of it, I think we might have gone right from the hospital to the pediatrician which means I probably spent that day in the hospital.
So whatever else was going on that day – aside from finishing up this cathartic post – I did not trust myself to remember a four-item list that was crucial to the happiness of my still-recovering-from-daylong-labor wife. I certainly wasn't celebrating my birthday. My mind was on other things. (On the plus side, I had beer.)
***
It's a little later in the morning now. Erin's now up and off to Derby Lite and Abigail's down for her nap. We spent the first part of the morning as we always do on Saturdays, giving Abigail her breakfast and enjoying some extended playtime that our jobs don't allow for during the week. The house is quiet aside from the occasional rustles from the baby monitor as AG kicks and moves in her sleep.
I generally don't like making a big deal about my birthday. I think Ron Swanson has it right:
Well-wishes from friends, a nice dinner out with Erin and time to read and relax is my idea of a perfect day and that's how today's shaping up.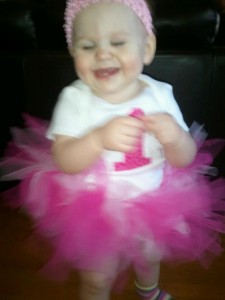 But now that Abigail's birthday is days before mine I have a whole new reason to celebrate. At 37 – jeez – I get more joy out of buying presents for Abigail than I do getting them myself. We had a party last week for her and I don't know about you but I enjoy making a fuss over someone else on their birthday way more than I enjoy having a fuss made over me. Especially when they look like this.
I've never been big on reflecting on the past but I've spent the morning revisiting Abigail's birth, looking at pictures of how tiny she was and thinking about how far she's come in just a year. I'm sure next year I'll re-read this and think about how we spent that morning playing with her ukulele, listening to James Brown during breakfast and entering Day 3 of No More Bottle. A day full of things worth remembering.
Best birthdays ever.