"Make sure you got it."
These were the words spoken by Ian McLagan of The Faces, seconds after he was gracious enough to take a picture with a whiskey-soaked me.
But let me back up.

By Saturday night in Austin, I'd spent the better part of four days at SXSW working, in one form or another. After taking in a set from Justin Townes Earle, I headed to the Time Out showcase at Emo's with The Donnas and X. As it would be ethically wrong for me to review a show my employer is sponsoring, I considered myself off the clock, and proceed to sip Maker's throughout the night.
I drifted into a conversation with Matthew Albanese, who works on the Seaport Music Festival. He told me that he saw Ian McLagan of The Faces on his way in. I'd had just enough whiskey to make it my mission to meet Mr. McLagan.
Though I know what he looked like back in the day, I was a bit fuzzy on what McLagan looks like in 2008. One of my bosses corraled a Time Out New York marketing guy who had an iPhone. He ran a Google image search, and armed with a visual I proceeded to walk around Emo's Main Room in search of my quarry.
About thirty seconds later, I think I've spotted him.
Aware of my previous mis-identification of Amy Winehouse, I get confirmation from a few of my co-workers before approaching him. Then this occurs:
Me: "Are you Ian?"
Him: "I am!"
Me: "Sir, thank you for everything you've done."
Him: "Am I Sir Ian now? Was I there for the ceremony? Did I enjoy it?"
What more could you ask of a moment like this?
As we talk, I let him know I've from Chicago and he lets me know that he'll be at Fitzgerald's come August or September. And then I ask him for a picture.
Know this: ever since I started writing and reviewing people of some renown, I've made every effort to avoid any sort of star-fuckery. But faced with a man who has a direct line to rock's booze-soaked heart, I couldn't help myself.
As soon the flash snapped, McLagan said "Make sure you got it."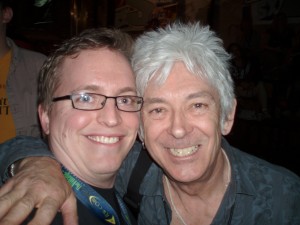 Argue, if you like, the notion that nowadays McLagan is someone who doesn't often get lauded by a fan, or asked for a picture. But even if that's true – and I'm fairly certain it isn't as I watched several people hail him throughout the evening – does it necessarily follow that he'd be concerned with me capturing the right photographic representation of that moment? No. He's just being a decent bloke. And frankly, there aren't enough guys like that in the biz.
So thanks, "Sir" Ian. Thanks for making me remember why I wanted to do all this in the first place. Not because I would get to meet and worship my idols, but because guys like you make me think it's worth all the thinking and writing in the first place.