I haven't read at Essay Fiesta in three years so it was great to be back at The Book Cellar in Lincoln Square last night. It's now hosted by Willy Nast and Karen Shimmin and benefits 826Chi, a non-profit organization dedicated to helping youth get excited about reading and creativity. Their next event is August 18th at 7pm. You should go.
Or: Come see me read at Tuesday Funk on September 2nd at the Hopleaf.
I've had a couple things knocking around in my head recently and writing this piece really helped bring them all together. Saying more about that spoils a couple bits in the below so…
—
Last week, my grandfather and I were sitting in a steakhouse in the northwest suburbs drinking dry Rob Roys on the rocks, with a twist. It has always been his drink and so in his presence it is mine as well.
We were waiting for our food to arrive and he was telling me the story of how he and my grandmother met. I've heard this story at least ten times before but something about the way he told it that night – or maybe it was the second Rob Roy – made me realize how close I came to never being born.
I've always been fascinated by the story of how my grandparents met because it seemed really complicated but that night it seemed moreso.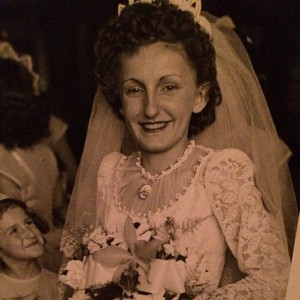 Here's the gist: This guy from another school (which is all I'm ever told about him) asks my grandfather, who is then just a 17 year old Norwegian kid named Edgar, if he knows a certain girl named Jean, a 14 year old Polish girl. This guy asks Edgar if he knows Jean because he's trying to find out whether she was in Holstein Park some recent evening. (The reasons why he's asking have never been made clear to me.) My grandfather says no, he doesn't know her, but he thinks Jean is in class with his brother, my uncle Hal. Edgar says he'll ask him. Either Edgar has Hal ask Jean or the two of them ask her together – again, the details are less than clear – but what is made very clear is her emphatic no: She was not in Holstein Park that night because her mother – my great-grandmother Martha – would never allow her to be in Holstein Park at night. But Edgar takes a liking to Jean and so they begin dating and then a few years later they marry, then have my mom and et cetera, et cetera.
So I'm sitting there sipping on that Rob Roy, listening to this story and I suddenly realize after all these years that this story makes no sense.