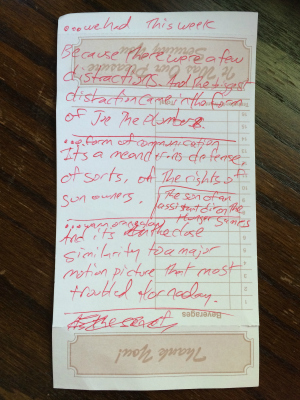 Though I'm almost always writing right up until the deadline for The Paper Machete, I usually finish before I leave the house. Not this time. I finished this one sitting at bar at The Green Mill twenty minutes before showtime.  You can see my notes at right.
As always, if you liked this piece, please like The Paper Machete on Fcaebook,  follow it on Twitter, listen to its podcast or - most importantly – attend one of its 3pm Saturday afternoon shows at The Green Mill.
—
I drew the short straw this week so I'm here to discuss last week's mass shooting near Santa Barbara, California. I will try to do so in a way that doesn't make you depressed for the rest of the day.
If you're worried you're in for a screed on gun control, don't worry. This piece isn't about guns. Not really. That's not the conversation we had this week.
No, after we spent the Memorial Day weekend remembering the sacrifices others have made to preserve everything good about this country, we were reminded of everything terrible about this country thanks to Joe The Plumber.