Yesterday I was supposed to appear on In The Loop, WYCC-TV's news and public affairs show. Unfortunately, as I was pulling out of my driveway to make my way to the morning taping I got a flat tire. So I missed it. (You can watch last night's show as it aired here.)
I'll hopefully appear on a future show, but it seemed a waste of research and talking points to not write about some of the topics they discussed.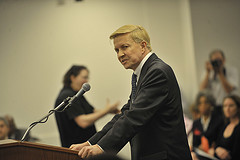 Alderman Fioretti enters the mayor's race
The narrative around Fioretti's run for mayor is he doesn't have name recognition or a strong constituency. The first concern can be overcome pretty easily and I don't believe the second is much of anything. Even without entering the race, Fioretti polled 25% of the electorate to the mayor's 43%. Moreover, while Karen Lewis has volunteers at the ready, the current mayor has to rent his GOTV effort. As for Fioretti, he's been making the rounds, particularly in black churches and is a leader in Chicago's progressive movement, mostly because the ward remap has given him nothing to lose.
Still, the problem with the narrative is it misses the real story: Chicago is having a moment for progressive politics. Too often, Chicago has favored a strongman view of the mayor's office and we frequently seek a person to rally behind, rather than ideas or principles. (Witness the scramble during the last mayoral election for a consensus black candidate that obscured the actual concerns of Chicago's neighborhoods of color.)
If we consider the race through this lens, this mayor's race is seen less as a race between individuals and more as a contest of ideas. Crime is down overall, but in some neighborhoods it's up. We've starved some neighborhoods of economic resources in an effort to make the Loop the economic heart of the city. Twenty of the 49 public schools closed last year were on the South Side. These are the big issues of the campaign – or should be – and it's why there's room for progressive candidates this year.
Finally, as Ben Joravsky reminded us this week, Chicago uses a runoff system for its mayoral election. Unless the mayor gets 51% of the vote, there will be a runoff in April. Plenty of time for any candidate to introduce himself or herself to voters.
Cardinal George's recent column on gay marriage
The Cardinal is in ill health and regardless of his personal views, I hope for his recovery and comfort.
Anyone who reads the news can tell you we are still litigating many of these issues so to say there's a uniform state law that governs all activity from economics to sexuality – which is what the Cardinal invokes when he says "sharia law" – is simply untrue. It's a good line and one designed to provoke – in the same way that it was when the Cardinal compared LGBT advocates to the Ku Klux Klan (for which he later apologized).
But what we have seen is an increasing movement toward equality.
I'm not Catholic but I went to a Catholic high school and I attend a Catholic church. One of the things I've always found great comfort in is the church's stance on issues of social justice and helping those who've been set apart from society, often because of laws.
I would hope the Cardinal comes to understand that people who have been denied equal access to marriage or certain forms of health care is an issue of social justice and that while the church may not change its stance on those issues, there is an opportunity for healing between the larger church and those who feel apart from it. Especially those whose marriage does not exist for the purpose of bearing children – older couples who can no longer bear or support children, adoptive parents, etc. – but still fulfills the greatest commandment of love.
The Obama presidential library
I'm glad the statehouse bill to set aside $100 million in public funds got stuck in a drawer somewhere. We sought to raise 250 million in private and corporate donations for the Olympics and raised 73 million the month before our bid was not accepted. The NATO Chicago committee raised $33 million in private donations. (Some of this has been returned back to Chicago's communities.)
Say whatever you like about the mayor but the man knows how to fundraise. That goes all the way back to his days as director of Clinton's finance committee in 1992. Chicago will already need to commit public funds to support the everyday operation of the library, so funding its construction with private and corporate money seems the better way to set financial priorities for our state.
The Obama Library is also symbolic and brings prestige to the city. We hear the pejorative of "Chicago-style politics" and it would help beat that back a bit and have a reminder that Chicago gave the country a president.
More people are moving to Chicago
As Greg Hinz said in Crain's it's too early to tell if this is a one-time thing or a pattern. But Chicago is definitely seen as a high-tech city despite whatever financial problems are plaguing the state.
What will encourage more people to move here is connecting our public schools into this burgeoning sector. Job training, mentoring programs and getting kids and parents to understand that there are career paths for them in the neighborhoods. Blue 1647 in Englewood is a great example of taking the 1871 model and applying it elsewhere.
If we do want to see downtown as the heart of the city and a place of aspiration we have to make it something that's attainable for kids who live in our neighborhoods, not just people from outside the city.
People like to say that we don't make things anymore and it's just not true. But what we used to make with cotton and steel we now make with 1s and 0s.
Nick Wallenda's walk across the Chicago River
Sure, why not? Seems like a great way to distract people from the Trump sign.
Image: Chicago Public Radio via Creative Commons