My friend Mike Fourcher, new media entrepreneur and erstwhile publisher of Center Square Journal, has a smart post on his blog about the death of the Boston Phoenix and Google Reader. Mike argues these two events further illustrate the death knell ringing for display advertising as readers become less passive and information becomes more readily available.
What's the solution? Mike says:
The rest of the publishing world, especially start-up operations that lack a strong brand and ad sales team to support them (i.e. non- Condé Nast/Gawker/Disney/Tribune), will need to build their revenue plans around active reader interactions. Subscriptions are an obvious path, but so are ticketed events, survey participation and merely attending free events sponsored by publications. We will have to consciously choose to support publications either with our wallets, our feet or our data.
Three things I thought about after reading the above, most of which have more to do with larger brands/publishers than startups:
First, events are great but they should be more than "come meet the writer" or quasi-TED gatherings. The Chicago Tribune has a two-tiered approach that grew out of its Trib Nation community engagement. Not only do they hold events with columnists and primary sources but they also offer classes on how to build your own blog or how to find ways to pay for college. At its core, the Tribune is using the resources and people it has to offer something of value beyond a news product.
Along those lines, publishers have an opportunity to disrupt the traditional ad production model by providing more creative ad services for clients. These services include print and display ad production, experiential/event opportunities and branded/native content creation published on their owned sites. In the last year, a few digital publishers have experimented with the latter but traditional print publishers have lagged behind in part because of the structural and ethical considerations (exceptions are The Atlantic and The Economist though the former found itself tripped by a bit). Most publishers create sales and marketing staffs based on selling ads, not around the idea of a mini-agency within a publisher. As for the ethics, Time Out Chicago's Frank Sennett published a set of guidelines for sponsored/native content and I've yet to see anyone present a smarter argument for how to handle this.
Lastly, though display advertising as it exists now is still dying, advertisers will still look for branding awareness and agencies will still look for impressions, at least in the near-term. Publishers will need to provide other products – print and digital – that provide both.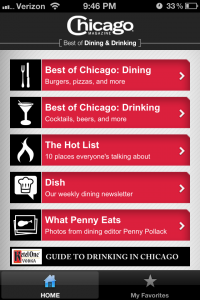 While sponsored content guides as inserts in your daily newspaper or weekly magazine are one possibility (and allow for an arm's length between the primary product and the advertorial), the "presented by" types of placements found in apps and tablet products are another more traditional placement.
For roughly a year* before I left Chicago magazine, I spearheaded the launch two apps: a "best of" dining and drinking app for smartphones and a newsreader/digital magazine app for tablets. As you can see, the mobile app not only offers sponsor placement but also a spot for the client's own branded content – distinct from the editorial ("Ketel One Guide to Drinking in Chicago"). Both the tablet app and the smartphone app had sponsor logo placement on the splash screen too and the client received a co-branded presence in any of the promotion ads for the apps that ran in ads in Chicago magazine, on the website and in other Tribune publications.
If I were doing the project again now, I'd argue for creating a co-branded, mobile-friendly microsite within Chicago magazine's larger .com.  The dining and drinking content would be complimented by daily content and lists at the forefront. Sponsor placement would run throughout the site and perhaps even geotarget so users could find, say, bars near them that serves the client's products.
All of this involves what Mike said above: getting beyond the products from the newsroom or the ads that traditionally supported it and finding the value elsewhere in the building or in new product forms.
* Admittedly, this should not have taken a year but that's a story for another time.