I've always found it difficult to listen to an unfamiliar album and understand the complete statement the artist was trying to make with it when I'm already very familiar with some of the album's individual songs.
Case in point: Songs in the Key of Life, which I just listened to for the first time, in its entirety.
Songs is one of those albums that impossible to fully understand with one listen. There's so much going on musically, lyrically and emotionally that trying to absorb it all will probably require several listens over a few years in many physical spaces. Is this the point? In the span of a double album, Wonder is trying to explain complexities ranging from socioeconomic hardship, racism and love – of a man for a woman and of a father for his daughter – through funk, big band, gospel, pop and jazz. Themes are dealt with best in literature, and Stevie's produced the musical equivalent of a great novel.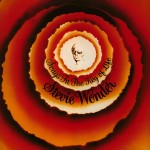 Yet just as I'd find myself following a line through the album I'd get distracted by the familiarity of "Sir Duke," "Isn't She Lovely" or even the strings and choral lines of "Pasttime Paradise" which countless listens of "Gangsta's Paradise" colored over almost to the point where I'm not sure I'll ever be able to hear "Pasttime" independent of its antecedent. I may also never be able to hear "As" without thinking of my wife. She loves that song like nothing you've ever seen. Literally. She has this whole dance she does with it, which she performed as we were driving down Lake Shore Drive earlier this week. It takes a while before you feel this kind of music in that way.
But again, that's likely the point. Songs plays as a very personal album, as if Wonder isn't so much creating characters and singing through them but speaking honestly from his heart. They're composed specifically to make the listener put his or herself in the mind of the singer. The shared blame he lays at all our feet on "Village Ghetto Land" is as palpable as the nostalgic joy of "Sir Duke." These songs came from years of living, in various contexts. Listening to them in a number of ways and spaces will likely be the only way to fully understand them, requiring the listener to bring as much of himself to the work as Stevie did.