This year, I'm trying to fill some holes in my musical knowledge by listening to some artists and albums that have escaped my ears in full. To do this without breaking the bank but still feel like I'm financially supporting good music, I bought a Spotify Premium membership. The streaming quality and selection are excellent. For the amount of listening I intend to do, it's a steal at $10 a month.
I'm planning on buying the individual albums that most strike my fancy and The Stone Roses first album will be one I want to have on hand. As someone who likes music and owns hundreds of CDs and albums, it's embarrassing to me I've never heard more than a couple songs off this album.* It is as good as everyone says it is but far more joyous, poppy (Beach Boys influences abound) and groove-y than I expected though offset by a quiet darkness. Listening to this album felt like meeting someone for the first time and instantly becoming best friends with him. I don't have much else to add to all the critical accolades thrown its way so I'll just say if you ever thought about tracking it down, do it.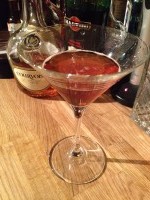 Erin and I were at the home our friends the Chibes this weekend. While Russ is mostly known for his beer knowledge, he mixes up some fine cocktails as well. He served us something like a Manhattan but with brandy instead of bourbon, which inspired me to whip up a Metropolitan but with Courvoisier instead of brandy because that's what we had on hand as my wife puts together a mean cognac-marinated beef tenderloin for Christmas. It's sweeter than a Manhattan but still has a nice warmth to it. Instead of boiling the sugar on the stove, I shortcutted the simple syrup by boiling a little water in the microwave (maybe 1/3 cup) then dissolving the sugar in it. Manhattans are my preference but it's nice to have a substitute until the Christmas cognac runs out.
* I was familiar with "I Wanna Be Adored," of course, and "Fool's Gold" is a song I know well as it was one of the songs in a category marked "X" at my college radio station. "X" songs were the extra-long songs you put on during your solo overnight shifts from 2am-7am as they offered a long break during which one could use the bathroom without as much fear of dead air greeting your return.